CRAC Presents: Canadian Revival of Psychedelic Research
Play Video
If the recent Canadian Revival of Psychedelic Research dinner (February 19) is any indication, Canada isn't done bringing alternative medicines to the mainstream. Before even the Harvard Psilocybin Project, Canada was home to some of the most critical psychedelic research in the world. British-born psychiatrist Humphry Osmond coined the word psychedelic while working with hallucinogens at Weyburn Mental Hospital in Saskatchewan. Today, Canada is experiencing a revival of psychedelic research being led in large part by patients who need to explore alternative treatments for conditions of the subconscious, like depression and substance use disorders.
If the recent Canadian Revival of Psychedelic Research dinner (February 19) is any indication, Canada isn't done bringing alternative medicines to the mainstream. Before even the Harvard Psilocybin Project, Canada was home to some of the most critical psychedelic research in the world. British-born psychiatrist Humphry Osmond coined the word psychedelic while working with hallucinogens at Weyburn Mental Hospital in Saskatchewan. Today, Canada is experiencing a revival of psychedelic research being led in large part by patients who need to explore alternative treatments for conditions of the subconscious, like depression and substance use disorders.
The dinner was hosted by the Clinical Research Association of Canada with the esteemed president, Sabrina Ramkellewan, leading the programme. The Clinical Research Association of Canada is a non-profit that provides time and space for the discussions relevant to clinical research in Canada. The dinner was a sold-out affair, a testament to the growing interest in psychedelic research and the people driving this emerging medicine.
The night began with Mark Haden, who is the Executive Director of MAPs (Multidisciplinary Association for Psychedelic Studies) as well as Adjunct Professor at the University of British Columbia School of Population and Public Health. Mark gave us a primer on types of psychedelics, what they do, and why they are such a hot topic in mental health medicine right now.
We heard from Irie Selkirk and her business partner Steve Sadoff about two very unique psychedelic-influenced ventures. Irie has worked with some of the biggest names in cannabis, and now takes wellness-seekers through gentle, multi-day psychedelic journeys in Jamaica through her Rise Wellness Retreat. The pair also introduced us to Sansero, a psilocybin life sciences company that is currently raising funds to produce what could be a revolutionary alternative to conventional antidepressants.
Finally, we heard the emotional stories of two patients who have incorporated psychedelic medicines into their lives with great success. Jacqui Childs is a wife and mother who says she was lost in a downward spiral of pharmaceuticals meant to target her anxiety, depression and PTSD. She thanks cannabis and psilocybin for her transition away from pharmaceutical medications. Daniel Carcillo rose to fame as an NHL player known for fighting. What spectators didn't know was that the real battle was taking place under this player's helmet. Today, he is a mental health advocate who found a new, more compassionate purpose through the mind-healing power of psychedelics. Both of their stories are incredible.
With a horizon full of new research, plus business opportunities, and patients who are courageous enough to try the less-known, it's absolutely no wonder that psychedelics are experiencing a revival. What's more encouraging is that these opportunities are right on our doorstep in Canada—more so here than in so many other countries.
Will Canada be at the forefront of psychedelic-based breakthroughs in mental health and wellness, or will we maintain a general ignorance towards the needs of the subconscious human mind?
After attending the Canadian Revival of Psychedelic Research in a room packed with like-minded people, we can see that there is nothing but a lot of hope for this brave new world we are just beginning to (re)discover.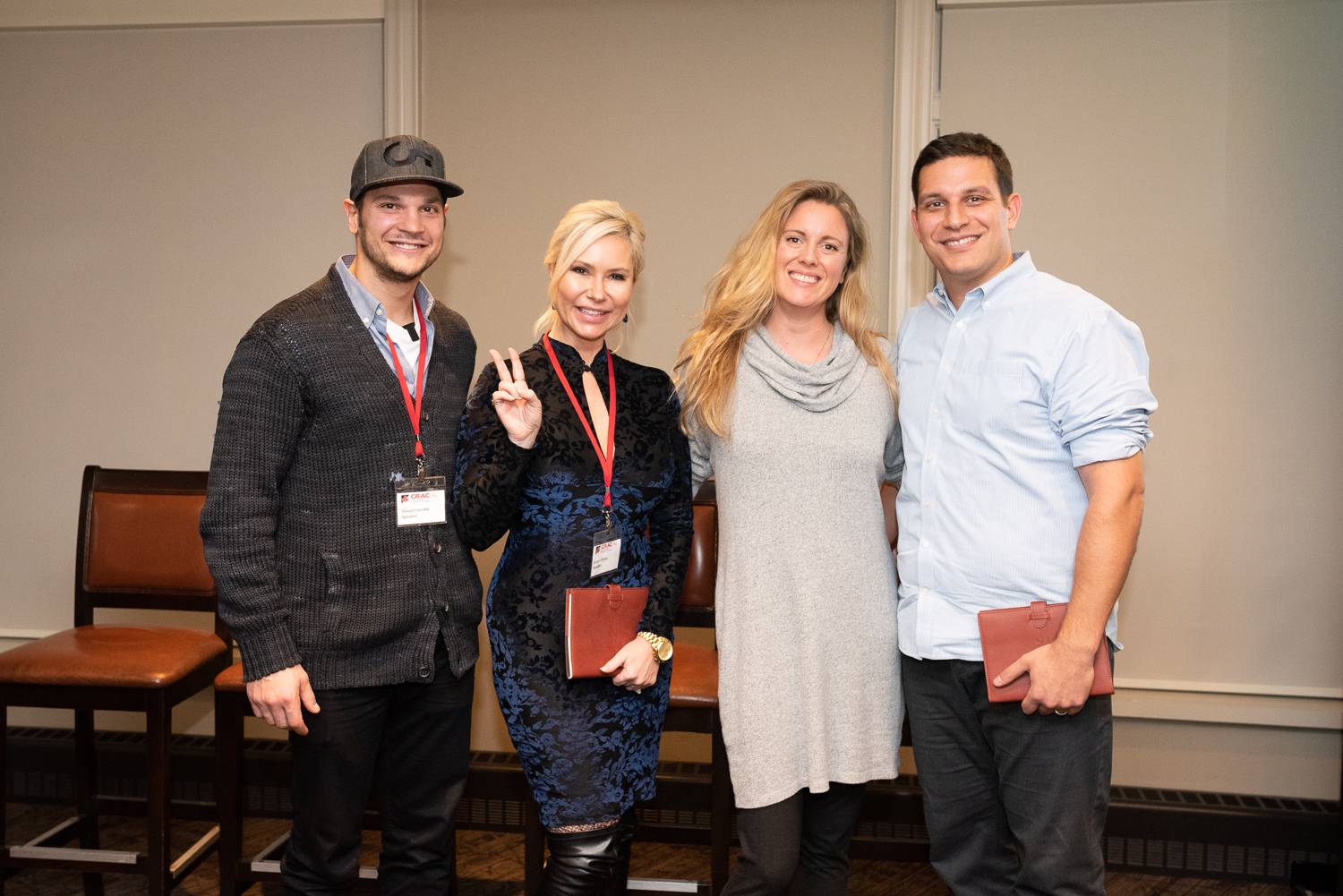 Women in weed: The trials and triumphs of working in Canadian cannabis
Elianna LevMarch 6, 2020 Share Print
From emotional intelligence to leadership strategy to why today's struggling industry can credit its troubles to a dearth of diverse perspectives.
We spoke to six female leaders in the cannabis industry about what it's actually like working in Canadian weed.
Here's what they had to say:

Melinda Rombouts
Current role: CEO of Eve & Co.
Her life before cannabis: Originally a plant biologist and greenhouse owner who ran a flower centre prior to starting her own female-focused company.We have almost 70% female employees and I attribute that to female leadership. But I also attribute it to women who want to work at a place where they're valued, where they have an equal and fair chance to move up…Melinda Rombouts, CEO at Eve & Co.
The cannabis industry is very, very male dominated. It stems from people from the mining industry, from the financial industry, and also from the greenhouse industry, which is also very male dominated, getting into cannabis. And I think this is why we see this negative aspect around cannabis that is so male dominated and it really hasn't changed a whole lot.
It was about last year they looked at who is employed at license holders across Canada and it's about 70% male employees in license holders.
More than half of our board is female. More than most of our supervisors and management here, actually on site, we have more women. And also, I think just in general having female leadership, instead of us being the norm of 70% male employees, we're almost the exact opposite.
We have almost 70% female employees and I attribute that to female leadership. But I also attribute it to women who want to work at a place where they're valued, where they have an equal and fair chance to move up within their company. I think that's why more women have been applying because they know that they have a fair chance in having a supervisor or leadership position in a company that's growing.RelatedCanadian Cannabis Brands for Women by Women

Rachel Colic
Current role: Brand strategist and founder of Boss Ladies of Cannabis, a database of female cannabis executives
Her life before cannabis: Has run her firm for 15 years, with a focus on cannabis for the last five. Currently travelling the world, Rachel consults on cannabis for international businesses.
When I came into cannabis, it was clearly a really big problem in the legal space, but actually not a problem in the grey market or illicit space.When I would say 'Why were there no women on that panel? Why are there no women in your team? Why are there no women on your board?,' the resounding answer was 'We couldn't find one…'Rachel Colic, Brand strategist and founder of Boss Ladies of Cannabis.
Lots of women were talking about running companies but when we look at the legal industry that was being built, it was predominantly older white men or super young white men who were able to raise $25 million and build themselves a licensed producer.
For me, it was incredibly frustrating to find myself as the only woman often in a boardroom, in a room, on a team, on a panel… And no, that's not a problem that's unique to cannabis.
The Boss Ladies of Cannabis was really just me getting so frustrated by people sort of acting as if it was difficult to find a woman who might be really smart and have a very senior level understanding, who could also sit on a stage and hold her own.
When I would say 'Why were there no women on that panel? Why are there no women in your team? Why are there no women on your board?,' the resounding answer was 'We couldn't find one.' And for me that was ridiculous because I was literally surrounded by hundreds of women that I had made friends with, colleagues with, met at events who were working in the cannabis space and had expertise.
Renee Gagnon
Current role: CEO and founder of Victoria-based Hollyweed North Cannabis Inc.
Her life before cannabis: Renee previously spent 20 years in technology and software startups, which ranged from security software to consumer apps for mobile devices.When the assumption is, 'What, you've become a woman? They're unfundable.' It was stark and dramatic and a wake up call that my life was going to be radically different from that point forward and nothing changed me inside.Renee Gagnon, CEO of Hollyweed North
We were the fourth ever publicly-traded cannabis company in the world. Two years ago, it broke a billion dollars. Just after we took the company public, I transitioned. That's where everything kind of went weird.
Up to that point, as far as the world was concerned I was known as a straight, white guy and that was the finance community and everything that I knew and I had to come out.
When I came out on Facebook…it was a horrible thing. Perceptively, it was a death nail to fundability. And that tells you a lot about society. When the assumption is, 'What, you've become a woman? They're unfundable.' It was stark and dramatic and a wake up call that my life was going to be radically different from that point forward and nothing changed me inside. I was still the same executive, founder and person. Same skill set. But now I was a female and that changed everything.
What you've seen in the cannabis industry in the past four years…when you look at the fundamentals, you see the companies aren't profitable, they're not operating right, they're unethical. Look at those companies and what don't you see? Women's leadership. So we found the problem but what does it mean? We have to fix it. It means consciously funding female businesses.
Before I was angry about things. Now I'm called bitter. It's the same feeling inside, but now I'm bitter.
If venture capitalists do not actively choose to invest in women, they shouldn't be allowed to invest at all.
California Pension Fund, the biggest one down there, actually mandates for only investing in companies with board parity. So things are changing. It's going to get to a point where funds won't invest in your cannabis unless it has female board members and female C-level. It's coming.RelatedEverything Canadians need to know about Legalization 2.0

Sabrina Ramkellawan
Current role: President, Clinical Research Association of Canada, Cannabis educator at The Michener Institute of Education at UHN
Her life before cannabis: Researcher and cannabis consultant, former nurse.
The cannabis industry is definitely a boys club. A lot of cannabis companies try to make it look like they have women so they'll have one on the board. But there's still not enough women CEOs and other executive levels. It makes it challenging as a woman to work. I find the focus is on today—how do we make money today and tomorrow? There's no long term vision.The cannabis industry is definitely a boys club. A lot of cannabis companies try to make it look like they have women so they'll have one on the board. But there's still not enough women CEOs and other executive levels.Sabrina Ramkellawan, President at CRAC
It's not the easiest thing. Your voice isn't heard sometimes. You don't really feel part of the team. You have to push yourself a lot as a consultant. For research, you have to think long term.
I find that some guys are different in the workplace. They talk about how amazing they are all the time. Me, I'm more honest about what I can and can't do. I deliver, but it's realistic. Whereas I've worked with guys who talk up a lot and don't do anything. How do these people get these roles?
I think that as the industry grows, [companies are] thinking more about having women on their board. But I think that the pressure is going to have to come from outside—people demanding that they're not going to spend their dollars if you don't have diversity on your board and management team.
Companies aren't just getting thrown money anymore and the opportunities are global. To survive, cannabis companies are going to have to have more maturity at the leadership level. I think boards are going to push for better leadership and seeing results.RelatedCanadian Cannabis Brands for Women by Women
Berkeley Poole
Current role: Creative director, Tokyo Smoke
Her life before cannabis: Prior to starting in the industry three years ago, she worked in fashion in New York.
It was tricky for me to navigate at the beginning. Not only was I the only woman and POC in the room, I would often be the only creative in the room. So how can you convey your ideas and influence people in a way that's meaningful and tangible to them? They're coming from a totally different background.
Whether it's the awareness that women have, or the sensitivity they bring to their work. The emotional intelligence is very high. It's unifying and fortifying for women to see in that type of an organization.Berkeley Poole, Creative director at Tokyo Smoke
Three years in, throughout our company, now it definitely skews female. There's a lot of great attributes that come with women in leadership.
Whether it's the awareness that [women] have, or the sensitivity they bring to their work. The emotional intelligence is very high. It's unifying and fortifying for women to see in that type of an organization.
The thing that is tricky for women in any management or leadership role, or professional setting is not necessarily having the resources and support system that most men do. Often times, because so much of leadership is men, they have other men to ask, in terms of how to handle different situations or navigate different scenarios in the office.
It has to be okay for women to feel vulnerable in seeking out those support networks. That's been completely invaluable for me. It's made me a stronger leader to have those people you can seek out and be completely vulnerable with and seek advice from. It often makes me feel less crazy because sometimes you'll be encountering these situations and your intuition is telling you one thing and it sometimes helps to have those people for support and guidance to tell you 'that's not crazy, it was an insane situation and here's how you deal with it.'RelatedWomen in Weed: 5 Women Leading the Charge at Canadian Cannabis Companies

Kate Robertson
Current role: Senior editor at the Growth Op
Her life before cannabis: Prior to her current position, Kate wrote and edited cannabis content for outlets like Now magazine, The Globe and Mail, and the Guardian.
As someone who's attended quite a few conferences and also worked in cannabis startups, I was pretty disappointed by the lack of female leadership and also just generally listening to female perspective.
People gravitate towards the loudest man in the room and assuming that he knows what's up. It's probably not a great strategy moving forward in this industry.Kate Robertson, Senior editor at the Growth OpI'm not perceived as a potentially important investor and I was never perceived as an authoritative source of information. From a journalistic perspective, I don't really care. I'm just producing stories, but it certainly gave me pause.
When I thought about the other women in the room who were navigating the same conferences and probably getting treated the same way, it is harder to get respect. What's so interesting about that, reflecting on the bubble and reflecting on how much hype this has turned out to be and how many people have been like, so full of shit, it's not even funny, is how silly that perception is, right?
People gravitate towards the loudest man in the room and assuming that he knows what's up. It's probably not a great strategy moving forward in this industry.
There's more and more and more a need for data, for numbers, revenue, for proof of evidence. We have been living in a sort of a fantasy world, leading us to legalization and now that the reckoning is upon us, it's time to point towards what you've actually achieved.
I feel good about what I've achieved. And I know lots and lots of people who should feel really proud of that too. But unless you've got something to show for the last few years, I think you're probably in a pretty shaky position.
UHN course offers cannabis education for healthcare workers
Main Page Content
2/19/2019
Michener's Introduction to Cannabis course launched last week as a five-week webinar. A certificate course will be available this fall. (Image: UHN)

Cannabis is one of the fastest-growing industries in Canada.
But the education around cannabis has not caught up to the industry's momentum, leaving healthcare professionals to learn about cannabis on the fly as they try to provide safe and effective patient care.
Sabrina Ramkellawan is trying to change that.
Vice President of Clinical Affairs at TerrAscend, a licensed cannabis producer, and President of the Clinical Research Association of Canada, Sabrina approached The Michener Institute of Education at UHN in 2018 about launching a course on cannabis education for healthcare workers.
"This is the first course that I'm aware of that focuses on the medical side of cannabis," says Sabrina. "There's a need to have a standardized, non-biased way of educating patients about cannabis that's not about pushing a product."
In her first job in the cannabis sector, Sabrina worked at a medical cannabis clinic designing a research framework to track patients' pain scores and their progress. It was during her time at the clinic that she saw how physicians and nurses had no education about cannabis and how awkward it was for doctors to prescribe it.
"You can imagine teaching an 85-year-old how to vape," Sabrina recalls.
As the recreational cannabis industry started to evolve, she noticed that healthcare workers were still in the dark about how to educate patients properly.
Designed for anyone working in patient education
"We were seeing patients asking other patients about cannabis on Facebook groups," she says. "That's not medical education."
The first step was to design a program in a neutral academic setting open to anyone working in patient education. Sabrina saw Michener as an obvious choice because of its focus on healthcare, partnership with UHN and curriculum design expertise.
With an advisory committee of pharmacists, physicians, lawyers, and patient representatives, Sabrina and Michener's Continuing Education team were able to plan a course curriculum that includes the history and science of cannabis, drug interactions, dosing, case studies and a panel discussion with medical experts.
The Introduction to Cannabis course launched as a five-week webinar last week, and a 12-week certificate course will be available in the fall.
For Sabrina, the course is a necessity.
"The cannabis industry is growing so fast," she says. "Now there's a legitimate course about cannabis from the medical perspective."
Learn more about Michener's Introduction to Cannabis course.​

Sabrina Ramkellawan; Superhero of cannabis clinical research
Leslie Andrachuk November 27, 2019
Sabrina Ramkellawan started her career as a Registered Nurse with a specialty in critical care and now has 20+ years of experience in conducting clinical trials to help bring drugs and devices to market. During the last 5 years, Sabrina has been tirelessly working in medical cannabis research and has had the opportunity to work with several cannabis companies to help them conduct research.
In her current role as the VP of Clinical Affairs at TerrAscend, she is responsible for overseeing clinical trials to ensure it is aligned with the company's R&D goals with respect to cannabinoid product development and strategic partnerships. She has been involved with several cannabis research studies including chronic pain, PTSD, pharmacokinetic studies, Sativex clinical trial, and a post-concussion study. More recently she has helped to build the first Cannabis Educator Program with Michener Institute of Education at UHN geared to educating healthcare providers with evidence-based science and research.
AW: You have a fascinating professional journey that many women can take inspiration from. Tell us about your career, and what propelled you to move from critical care nursing to specializing in clinical research?
As a child, I wanted to be a superhero and figured being in a career where I could help people was as close as I could get. I started my nursing career with a critical care specialty, working in the surgical intensive care unit and emergency departments, as well as other areas such as pediatrics (Sick Kids), mental health (CAMH), and outpatient care/community nursing as well.
I had the opportunity to participate in one of my first clinical trials working at Sick Kids. I fell in love with being part of the team bringing new drugs and treatments to patients especially in areas where there were limited or no treatment options available for certain conditions, such as for rare diseases. I loved research so much that I have been doing it now for 20 years.
AW: What caused you to make the move into the cannabis industry?
My start in the cannabis industry was much like my start in research: it was not planned and just fell into my lap. In 2015, I was approached to help set up and manage a medical cannabis clinic, and along with that, conduct cannabis research studies as well. However, I was very reluctant to initially work in the cannabis space because cannabis was not my area of expertise. But when another major contract fell through, I took the cannabis gig as the VP of Operations at Apollo Applied Research.
I have a nursing background but like most health care professionals, we are not taught about cannabis. So, I had to teach myself in order to educate patients and oversee a cannabis clinic. The two key reasons that I have continued working in this space are:
Seeing firsthand how medical cannabis can impact a patient's life; and
The need for more research to support and evolve the science of cannabis and further to improve it as a medicine (through research and product development/innovation). I have had the privilege of educating thousands of patients and interviewed many on the research study site, which allowed me to get even more information on the measurable benefits of the plant in chronic pain, PTSD, insomnia, and brain injury, to name a few therapeutic areas. One of the most impactful research studies I have ever conducted was interviewing veterans with PTSD, which included hearing about their trauma, and their experience with using cannabis.
I attribute much of my cannabis knowledge and education to patients themselves. This interaction has been the best way to learn through their experiences and their personal journey. Because of patients, I want to drive more research in this industry and contribute to it in a big way.
Sabrina speaking at the Brain Injury Canada Conference about Brain Injury and Medical Cannabis.
AW: Cannabis is still a largely stigmatized or even illegal plant in most countries, so jumping in early in the industry requires a lot of bravery. What or who in your life contributed most to your ability to be brave?
My family, including my grandmother, came to this country from Guyana as immigrants in the early 1970s looking for a better life. My grandmother was an inspiration for me, she could not read or write but she worked hard, hustled every day and was determined in her goals of making a better life for herself and her family. I get that altruistic sense of purpose from her in everything that I do, both personally and professionally.
I don't think I have ever been okay with just having a 'normal day job', so going down new paths and pursuing new untapped opportunities is something I have always done throughout my career. As a nurse and researcher, it's always been an important issue for me that health care is available and accessible to everyone, especially those that need it the most. Early in my career, my nursing outreach focused on providing care for people living on the streets, and in mental health. For me, cannabis has many issues including making it accessible to all patients with medical needs who can benefit from it.
AW: Research tells us that women in the c-suite and on boards are underrepresented in the cannabis industry, and pretty much every other industry. Realistically, what do you think can we do to change this?
The cannabis industry is not alone in this as you say, I think all industries must look at their Boards and C-suite positions and ask of themselves "How do we do better at representation and represent more diverse voices"? Women, people of color, members of the LGBTQ community must continue to push the industry against underrepresentation. For me, it was important to work in an organization that has diverse representation at the leadership team level, which I have found working at TerrAscend, a licensed producer in Canada (subsidiary companies Solace Health and Solace Health Network).
Cannabis is already so stigmatized and has many wrongs we still need to make right; including the incarceration of many Canadians, especially impacting racialized communities.
Wouldn't it be a great story if the cannabis industry could be one of the best in terms of diverse representation in C-suite positions and Boards? It would take many stakeholders in the industry to come together to make this happen. Many communicate this sentiment but are less willing to back it with action. That's what we need.
Sabrina after her keynote speech at the Alpha Woman Medical Cannabis Summit. Pictured here with Leslie Andrachuk and Kristina Shea.
AW: Many in the industry are focused on Cannabis 2.0, but you've mentioned your anticipation for Cannabis 3.0. Can you tell us more?
I like to think of medical product innovation as "Cannabis 3.0" of the cannabis evolution. As an industry, it's important for us to continue to research and develop products that focus on specific indications and gather data to support products that show therapeutic effects (efficacy) and safety. The goal of medical cannabis is to produce cannabinoid products that deliver the same and consistent cannabis effect every time so that patients can expect consistent outcomes.
Moving away from strain names that don't necessarily even mean the same in terms of cannabinoid content and terpenes. Currently, only about 6% of doctors are authorizing medical cannabis. If we had more research, data, and information on medical cannabinoid products that provide consistent dosing and effects, we will likely see more healthcare professionals' adoption to authorizing medical cannabis. There is so much more to learn about the plant and its medicinal properties and research can help tell her story.
My work as VP of Clinical Affairs at TerrAscend is focused on clinical research and development, to support innovation and research into the development of standardized dosing and delivery methods.
AW: What you do believe are the roadblocks to getting more MDs prescribing cannabis?
I think that there must be a paradigm shift in how health care practitioners measure their care of patients. Much of our education is learning about pharmaceutical products as one size fits all and less on personalized medicine, less focus on preventative care and not being open to other more natural treatment modalities.
MD's don't authorize for several reasons; they are worried that they won't be taken seriously by their peers if they demonstrate they are a "cannabis doctor", they don't have the knowledge of how to manage a patient with cannabis, and they feel that there is not enough research and data to support its use.
We also need more education at the college and university levels to not only physicians but many other health care providers including pharmacists, nurses, etc. I am currently teaching at Michener Institute of Education at UHN and really pleased to be helping to educate health care professionals including physicians on cannabis.
More research will also help health care providers to support the authorization of cannabis. I do think that once we have high quality and standardized dosing delivery backed by research, we will see more adoption of cannabis as medicine.
AW: What do you feel are the drawbacks and benefits with Big Pharma eventually investing in developing cannabinoid-based pharmaceuticals?
The benefits are that Big Pharma does have the know-how and infrastructure to develop formulations and devices, and the funding to conduct the research studies to support new cannabinoid medicinal products. The benefit of clinical trials is that if the product has a DIN, then it can be covered by insurance companies for patients.
The drawback of Big Pharma's investment in cannabis is the potential to focus on creating synthetic pharmaceutical products as opposed to full-spectrum plant products. I think that many patients will want to access plant-based products, especially with the synergistic effects of the whole plant.
AW: Has cannabis changed your life in any way and if so, how?
I don't have a personal story of consuming cannabis and changing my life personally that way. Working in the cannabis industry has allowed me to meet incredible people and interacting with patients on a regular basis has been inspiring to me. I feel lucky to have the opportunity to work in this industry by bringing my expertise and hope to help the industry even in a small way. I have been fortunate enough to have worked on numerous cannabis studies to date with LPs, and cannabis companies. In my current role as VP of Clinical Affairs at TerrAscend; I focus on conducting clinical research that supports TerrAscend's research and development goals.
AW: What do you do to keep yourself mentally and physically fit?
I have a 13-year-old son that keeps me busy and helps me to embrace my inner child as well. I enjoy running and yoga to keep physically fit. Surrounding myself with people who inspire me and make me better myself, also helps me mentally. I run a non-profit called Clinical Research Association of Canada which allows me to support education and at times to raise funds to support research in Canada. Giving back to my research community is something that is worthwhile to me.
I am also writing a comic book that has been great to help me more on the creative writing side and has been super fun. Since I can't be a superhero…I can write about one…. maybe one that gets her powers from a certain plant.
As a bilingual pioneer in global digital publishing and marketing, Leslie is happiest when creating new things and inspiring her teams. She is passionate about changing biases that hold women back from realizing their true power and is grateful that at this point in her career she has the skills to make real change.
Cannabis-friendly hotels are the future of tourism: Sarah Hanlon
Imagine checking into your hotel and finding gourmet edibles, premium cannabis nugs and other goodies on your pillow? I've experienced it abroad, and we're ready for it here
By Sarah Hanlon, POT CULTUREJanuary 9, 2020
When I visited Seattle in 2017, I entered my room at the famous Thompson Hotel, and there was a treat on my bed – and it wasn't just a chocolate. I'll never forget the welcome gift I got that day. I was fresh from a nauseating flight and wanted nothing more than a little puff to soothe my mind and tummy.
Resting on my perfectly plumped pillows were chocolates and pastilles from The Goodship edible company – basically the Willy Wonka of the cannabis world; whole flower from Dutchy; some Marley Natural pre-rolls, and my personal favourite: High-potency buds from Headlight (who now specialize in pre-rolls infused with concentrates. I'll have to make a trip back!).
In 2018, an American cannabis company teamed up with The Standard boutique hotel chain to offer its guests cannabis-infused gumdrops in its mini-bars and lobbies. And ever since — whether officially or under-the-radar — American hotel brands have been getting in on the Green Rush.
These are the types of canna-partnerships I want to see here in Canada, and with iconic Toronto hotels like The Gladstone and The Drake hosting swanky cannabis events like trivia nights and live storytelling nights, it's a good sign they would be open to such offerings when the time comes.
Currently, hotels like the Thompson are more limited north of the border. While offering actual cannabis products is not permitted due to regulations (the only commercial sellers or donors of cannabis can be licensed dispensaries or producers), managers of various types of accommodations are getting creative with their cannabis-friendly offerings. And some of them are no joke.
Take Sir Sam's Inn and Spa on the scenic Eagle Lake in Haliburton Highlands. While it says nothing about cannabis on their webpage, the year-round retreat destination's website notes that while smoking is strictly forbidden inside the rooms, it can be done any legal place on the grounds. That means outside and at least nine metres away from a building – not bad! Plus Sir Sam offers a wide range of activities perfect for the outdoorsy puffer, like hiking and pedal-boating, bonfires, biking, swimming, snowmobiling, and stargazing.
Or there is Exodia Estate in Port Dover, Ontario. For a whopping $2,000 to $3,000 a night, you can rent this 12,000-square-foot, 12-bedroom mansion surrounded by English-style gardens, waterfalls, and luxury "without pretension." And because it's a private rental, you can also smoke all the weed you want at this Georgian-revival Heritage home meant for corporate and wellness retreats.
For now, private rentals like this are the biggest way to find cannabis-friendly lodging in Canada, with many people jumping into the market.
Clinical researcher and nurse Sabrina Ramkellawan runs an Airbnb in a triplex just west of Toronto. She's converting two rooms of her property into cannabis-friendly suites, with sparkling clean accessories, a beautiful aesthetic and lots of comfy outdoor spaces for smoking.
"I have to find a balance between space for people who consume cannabis and a space for those who don't want that," she says.
Ramkellawan's decision to go the cannabis-friendly route came after an American friend opted out of their hotel stay to crash at her pad instead. The great location, comfortable atmosphere, and most importantly, no fear of being charged a fee because of a weed smell — which can happen even when you abstain from smoking in the room.
These private rentals aren't new and they aren't restricted to Canada either. BudandBreakfast.com allows users to peruse 420-friendly lodging options all over the globe, from British Columbia to Cundinamarca, Colombia.
People are hungry for more weed-friendly options. And while the growth of private, shared accommodations and a "you-can-smoke-anywhere-you-want… outside" is a start, I hope it also shows hotels and Health Canada that cannabis-friendly spaces are wanted and needed.
Subscribe to the Cannabis Post newsletter.
Launch of a New Certification and Designation, Called Clinical Research Professional of Canada (CCRA)®, Offered by the Clinical Research Association of Canada (CCRA)®
Published: Sep 25, 2019
Launch of a New Certification and Designation, Called Clinical Research Professional of Canada (CRPC)®, Offered by the Clinical Research Association of Canada (CRAC)®
This content has been prepared exclusively for organizations that are involved in clinical research and for clinical research professionals, as CRAC has launched the first and only certified Canadian research designation "Clinical Research Professional of Canada (CRPC)®".
TORONTO, MONTREAL, and CALGARY, Alberta, September 17, 2019 (Newswire.com) – The Clinical Research Association of Canada has launched and is now offering the only Canadian clinical research designation. The requirements and eligibility to take the exam can be found on the CRAC website. The certification exam is completely automated via the CRAC website, which allows professionals to complete the exam online, and it provides prompt exam test results upon completion. This automation is to ease the access for research professionals looking to obtain a clinical research designation. The designation is good for three years upon meeting eligibility requirements and successfully passing the certification exam.
"CRAC is excited to provide a certification exam that is the only one that incorporates Health Canada regulations and guidelines. In fact, it also covers U.S. and European Regulations as well, providing more comprehensive coverage of the regulations. As a research professional myself, this is important for conducting research in Canada and internationally." -Kim McDonald-Taylor, Toronto Area Chairperson and longest acting executive for CRAC®.
About Clinical Research Association of Canada (CRAC)®:
Clinical Research Association of Canada (CRAC) is a non-profit organization with chapters in Toronto, Montreal, and Calgary, whose mission is to provide a forum for discussion and exchange of ideas relevant to all aspects of clinical research in Canada. It has been in operation for 30 years conducting educational events for the research community. CRAC has a reach of approximately 6,000 research professionals throughout Canada through its members and social media platforms. Along with conducting events, CRAC has partnered with other associations and groups to co-host educational events and conferences. The educational events are eligible as continuing education (CE) to help maintain professional education credits throughout the year.
"CRAC was founded to provide education to research professionals with a Canadian perspective. Developing this designation is important to support the professional development and educational standards for researchers in Canada," says Sabrina Ramkellawan, President of CRAC®
For more information about the eligibility to write the exam and obtain this new designation, contact crac_cert@craconline.ca. Special thanks to Suzette Salama for partnering on the development of this certification and designation. To find out more about our upcoming events, check our website. Upcoming events include an event in Montreal, in partnership with RQA, focused on Regulatory Inspections and Research Challenges, and coming soon in Toronto and Montreal is an educational event focused on Artificial Intelligence (AI) and its role in clinical research.
For media inquiries or event partnership opportunities, please contact Kim McDonald-Taylor (Toronto Chair-Person) or Sabrina Ramkellawan (President) at info@craconline.ca Website: www.craconline.ca
For official press release, please click here.
Get Better Without Getting High (Unless You Want To, Of Course)
PREVENTION AND TREATMENT Despite its pending legalization, recreational and medical cannabis is still stigmatized throughout Canada. Education can help overcome these concerns.
Sabrina RamkellawanVP, Clinical Affairs, Solace Health NetworkSHARE THIS PAGE0 0 0 0 0
Leslie Best, a registered yoga instructor and entrepreneur. Photo: Melissa DeSouza
Canada is a cannabis-loving society. But while a comfortable majority of us have no problem with recreational and medical cannabis, the stigma associated with its use has hardly been eradicated. Quite frankly, most Canadians are not truly educated on its wide-ranging benefits.
"There's definitely still a stigma. The media still portrays the idea of the stoner type, typically a male who's just looking to get high," says Sabrina Ramkellawan, Vice President of Clinical Affairs at Solace Health Network. "A lot of people don't know that the goal on the medical side is to help with symptom control without the high." In fact, many women are using cannabis specifically for their health issues.
"The medical community hasn't done a great job of researching or focusing on women's health issues, which is why a number of women are not achieving symptom relief to manage their conditions," says Ramkellawan. "We see many women turning to cannabis for help with migraines, menstrual cramps, anxiety, sleep problems, and even sexual dysfunction." One of the big drivers for women using medical cannabis is the goal of decreasing the use of prescription drugs and their unwanted side effects.
Behind the green curtain
More and more, cannabis is being used by people from a variety of lifestyles, including parents, entrepreneurs, and professionals.
Leslie Best, a mother of three, uses cannabidiol (CBD) to treat anxiety and stress and to manage her pain from interstitial cystitis. She chooses products that are high in CBD rather than tetrahydrocannabinol (THC) in the hopes of feeling better without the high, and she's very happy with the results. "I tried pharmaceuticals for my anxiety, but they just made it impossible to parent," Best says. "With CBD, there's none of that. I can be there for my kids, I can go to the gym, I can run — all without the high and the ups and downs."
She feared judgment from family members as well as other parents in her social circle — would they stop letting their kids sleepover at her house? Eventually, she decided the solution was not secrecy, but education. "At first, I was apprehensive about sharing this great news with everyone but then I sort of 'came out the green' and started really advocating for it."
Education is the key
Sabrina Ramkellawan oversees a team of professional cannabis educators at Solace Health Network. Their mission is to become the leader in providing medical cannabis services, including case management, education, and advancing cannabis research. She is passionate about providing education on the variety of women's issues that cannabis may alleviate and believes education is key when helping women find the right strains for their needs.
"There's a large population of women who are starting to look at cannabis because they are tired of taking prescription medications," Ramkellawan says. "They're often on more drugs to combat side effects, and they end up on this cascade of prescription drugs. Women are making a shift towards more wellness and natural holistic approaches, which is great to see."
A new horizon for wellness
Ramkellawan emphasizes that medical cannabis should be used with clinical guidance. While customization is a popular benefit, she's critically aware of the importance of ensuring health care professionals are equipped with the right knowledge to make recommendations.
"There are so many licensed producers in Canada and each carries different strains, so patients just don't know where to start," she says. Her team provides customized treatment plans and education to help navigate strain and dose selection. They go beyond looking at cannabis by providing tips and guidance on other holistic approaches to improve and empower people to manage their health.
Ramkellawan is enthusiastic about several wellness events Solace Health Network is hosting this year, including sessions focused on yoga, kickboxing, nutrition, and sexual wellness.
With full legalization on the horizon, women need to know that medical cannabis is very different from that used for recreation. Both Best and Ramakellawan are on a mission to empower other women, and their doctors, to take better control of their health with cannabis.
Canada's doctors are being a buzzkill on cannabis legalization
Canadian Medical Association takes a hard line on medpot program despite research potential offered by legalization
BY SARAH HANLON
OCTOBER 16, 2018
R. Jeanette Martin
The Canadian Medical Association has called for an end to Canada's medpot program once legalization kicks in.
---
The Canadian Medical Association's (CMA) position on medical cannabis is coming under scrutiny again as legalization looms. After calling a few months back for an end to the federal government's medical cannabis program once weed becomes legal October 17, the CMA has modified its position. It now says it supports a review of the medpot program under legalization in five years.
Dr. Jeff Blackmer, the CMA's vice-president of medical professionalism, told CBC News recently that the recreational system would let people who feel cannabis might be a benefit to them access cannabis on their own.
"If anyone can go down to the local dispensary and get cannabis, there's really no need for a separate medical authorization system."
Except Ontario won't have dispensaries, at least legal ones, until next spring. And those provinces that will once legalization kicks in require customers to be at least 19 (21 in some provinces). Seemingly anticipating the argument, Blackmer expressed that pediatric patients should be seen as exemptions to the rule and granted special access to the recreational system. Same with people who need to use cannabis to be able to work.
But all these special exemptions don't sound so great to the patients and the parents of patients who have already fought against a rigorous system in order to gain freer access to the medical cannabis they need.
Health Canada says the government will continue to facilitate the medical cannabis program in Canada after legalization, with a review to come after five years.
That review was always a part of the legalization Task Force's recommendations, which Health Canada says should "facilitate research with the goal of improving our knowledge of the risks and benefits of cannabis."
The CMA claims "there is insufficient evidence on risks and benefits [of medicinal cannabis]… the proper dosage and potential interactions with other medications."
The group has been echoing these sentiments for a while.
Dr. Michael Mohan, a family doctor based in Toronto who has referred patients for medical marijuana, notes that trusted studies on cannabis aren't entirely unavailable for doctors.
For example, cannabis products have shown effectiveness in improving nausea and vomiting in chemotherapy patients in small studies. Similarly, studies have shown a benefit for cannabis in treating certain types of epilepsy.
But he agrees that a lack of studies prevents doctors from using cannabis as a first-choice treatment option for conditions including depression, anxiety, insomnia, PTSD and chronic pain.
"Unfortunately, there are very few large or high-quality research studies that clarify if cannabis is useful in these or almost any condition. Many doctors, therefore, consider medical cannabis an option of last resort," Mohan tells NOW.
He's hopeful legalization may have some positive impacts on the research side of things, which he says "has historically been hampered by its [cannabis's] legal and political status."
He points out that medical cannabis may also require different strengths and compositions than would be appropriate for recreational use. Prescriptions for medical cannabis could also allow patients to receive insurance coverage for costs.
Besides, just because a medical system exists doesn't mean a doctor has to prescribe it.
Sabrina Ramkellawan, president of the Clinical Research Association of Canada (CRAC), has spent 15 years working in clinical research, the last three as a leader in cannabinoid studies.
Ramkellawan tells NOW she is not surprised by the CMA's back and forth. She says "they were put in the position to be the gatekeepers for authorizing medical cannabis without the education, safety, and guidance on how to dose due to lack of clinical trials."
Meanwhile, government regulations under the Access to Cannabis for Medical Purposes Regulations enabled companies to produce and sell medical cannabis without requiring the same scientific validation and clinical trials as other drugs.
This was the only way for patients to legally access cannabis, but it disincentivized public funding available for cannabis research.
That's why Ramkellawan, who also does planning research at biopharmaceutical company TerrAscend, believes collaboration between Health Canada, physicians, pharmacists, health care providers, patients, patient advocates, researchers, and scientists will be key for research development.
Many in the cannabis community and beyond are hopeful that large corporations who have already capitalized off the plant and those getting into the cannabis industry (there are rumors of Coca-Cola entering the scene) will help with the continued funding needed for research.
As Ramkellawan notes, the type of randomized, long-term and large-scale studies that are lacking can be very expensive – a minimum of $50,000 for small survey-based studies and upwards of $25 million for large-scale trials. The other challenge is that large-scale randomized clinical trials are also time-consuming.
Many Canadian and American cannabis companies have already funded medical research. CRAC recently held an event highlighting a SickKids study on epilepsy and cannabis sponsored by Tilray and Solace Health Network.
Ramkellawan reminds us that while more studies are indeed important, we must also recognize and respect the research that has already been done.
There are currently some 48 studies being conducted in Canada. There are also licensed producers, hospitals and academic centers in Canada conducting independent cannabis clinical trials.
Legalization should be the first step in gaining more medical knowledge about the plant, but not the last.
"There are more than 100 cannabinoids to which we still have not unlocked the science and medical properties," Ramkellawan says. "We have just scratched the surface of what cannabis can do."
news@nowtoronto.com | @nowtoronto
Catering to the female pot market,
Cannabis professionals say women are not being served well by market
Toronto Star
17 Sep 2018
BRENDAN KENNEDY STAFF REPORTER
Katie Pringle knew long before she got into the cannabis industry herself that its culture did not cater particularly well to women.
But as she prepared to conduct focus groups last year ahead of launching her own female-focused cannabis company, even she was surprised by how poorly women were served in the market.
She went to a head shop — a store that sells pipes, bongs and other paraphernalia related to marijuana use — and asked the clerk for their "most beautiful" smell-free jar, something the 34-year-old communications and marketing professional wouldn't mind displaying in her home.
"He brought me a Budweiser stash can," she said, laughing. That is, a storage container intentionally made to look like a beer can. "There wasn't much out there that was really catered towards women, or even men who were interested in more elegant things."
Pringle, who last year co-founded Canndora, which sells cannabis accessories "for elevated women," discussed this and other issues as part of a women's panel discussion at Hemp Fest Toronto's Cannabis Expo on Sunday afternoon inside the Queen Elizabeth Building at Exhibition Place.
Another panelist, Sabrina Ramkellawan, president of the Clinical Research Association of Canada, spoke about the male bias present in much clinical research, including around cannabis. Ramkellawan, who specializes in cannabinoid research, said women absorb cannabis differently than men.
"Our bodies are different, our metabolisms are different, our muscle mass is different," she said.
Women also have higher rates of some of the conditions commonly treated by cannabis, such as migraine headaches, anxiety, and various sleep disorders, Ramkellawan said.
"Women aren't just looking for something that is packaged small and pink with a bow on it.
We're really looking for products that can help us."
Recreational cannabis becomes legal in Canada on Oct.17 for those 19 and older.
Initially, the only legal outlet in Ontario will be the government-run Ontario Cannabis Store's website. Pot sales at private retail outlets are scheduled to begin next April. Ontarians will also be able to legally grow up to four plants per household, but the sale of edibles and cannabis concentrates, such as CBD oil, will not be legal until Oct. 17 of next year.
As the approaching legalization has led to the mainstreaming of cannabis, the industry, particularly at the executive level, started to look as male-dom- inated as other corporate sectors, Pringle said. But she doesn't think women are being pushed out.
"I think the pie is really big," she said, adding women are in the best position to know what other women want from a consumer perspective. "Women are looking for brands they trust, they're looking for brands with good reputations that represent who they are and have similar values to who they are."
Legalization is also helping to destigmatize cannabis use, particularly among women, Pringle said. Her company isn't the only one filling the gap in the market for women with discerning tastes. Hemlock Rose, an online store with a feminine esthetic, sells "a thoughtfully curated selection of design-focused smokeware to complement an elevated lifestyle."
In Vancouver, meanwhile, a social club called The Green Hat Society describes itself as "an unofficial sisterhood for women over 50 who enjoy cannabis."
Pringle said in addition to offering women cannabis accessories better suited to them, her company also aims to provide a sense of community. Their website, for example, includes blogs on letting go of "Mom guilt" around cannabis use, cannabis related recipes and answers to questions about the legislation.
"Women are looking for community and opportunity to have that dialogue."
The Clinical Side of Cannabis with Sabrina The Research Slayer
by Canndora Club September 25, 2018Sabrina Ramkellawan wears many hats. She is a speaker, nurse, researcher and VP of Clinical Affairs at TerrAscend. With 20 years of clinical trial experience under her belt, Sabrina found her niche in the cannabis industry, helping LPs and clinics with the conduct of research studies. To date, she has worked on 6 prospective observational studies and 5 clinical trials on cannabinoid products. Naturally, Sabrina was part of our panel of experts at our last "Women and Cannabis" event in Hamilton. We sat down with her to talk about the clinical research side of cannabis and more.
THE CLINICAL SIDE
Sabrina started in the cannabis industry four years ago as the VP of Operations at Apollo Applied Research. "I helped to build the clinic and I did oversee the clinical research studies including Large Scale Chronic Pain and PTSD research studies. I have since helped several companies including Licensed Producers with cannabis research." While working closely with patients, Sabrina was able to see first hand that many of them benefited from cannabis. However, there was still a lot of work to be done on the clinical research side. "I have continued working in the industry because I see that there is a lack of clinical research in this industry, and I want to bring my expertise and experience to help build a body of evidence around cannabinoids. I think that we have just scratched the surface of what we know and looking forward to more understanding and evidence."
A WOMAN'S PERSPECTIVE
The cannabis industry is a male-dominated industry like many others. Sabrina would like to see more women in executive positions, which would translate to more products and services formulated with women in mind. "I believe that the industry needs more diversity in general especially in key leadership positions. Our industry on the medical side is to essentially help patients that are looking for alternative options for their wellness. Women are natural caregivers, show empathy and they can bring the much-needed female perspective."
THE POST-LEGALIZATION WORLD
With legalization just three weeks away, Sabrina hopes to see a decrease in the stigma associated with it, especially with patients. She also thinks that it will provide an opportunity to gather more data about safe cannabis use and open up related discussions. "It will be interesting to see correlations on a national level such as opioid reduction, decrease in prescription medications and health outcomes. We have already seen that in US states that have legalized cannabis, a reduction in opioid overdoses by 20 to 30%. It will be great to see the development of medical products and devices as currently, the options are limited."
THE FUTURE OF TERRASCEND
As the current VP of Clinical Affairs at TerrAscend, a biopharmaceutical and wellness company, Sabrina is responsible for overseeing Solace Health Network and clinical research. She shared with us the company's plans in the areas of medical product development. "TerrAscend plans to look at medical product development through a joint venture with Ascendant Labs to develop advanced plant genetics to meet the medical needs of patients. In addition, we have Solace RX (a subsidiary company of TerrAscend) is our Drug Preparation Premises to allow us to deliver innovative pharmaceutical compounding and formulation services."
CANNABIS AND EPILEPSY
A few weeks ago, Sabrina helped put on an event to highlight a Sick Kids Study about cannabis and epilepsy. "The study was done using CBD/THC oil in children with epilepsy (specifically dravet syndrome). Dravet syndrome is a catastrophic epilepsy syndrome impacting all developmental areas in kids including behavior, cognition, motor function, etc. Kids with dravet syndrome can have hundreds of seizures in a day which has a great impact on their quality of life."

Sabrina provided us with a quick summary of this study:
"The oil used was 50:1 CBD: THC. It's the only study that has both CBD & THC. 47% of the children in the study had 50-90% seizure reduction 37% had >90% reduction and 37% <50 % reduction. Sick Kids have used what they learned in this study to develop a guideline for prescribing.
Interesting points of discussion at the event:
Sick Kids decided to do this study as patients were already using cannabis for their kids, so they did this study to study the dosing and tolerability of cannabis. So, the parent's and families' need for more information and wanting to try cannabis was really the catalyst for making this study happen.
The reality for many parents trying to help with getting cannabis for their kids is that they are not able to find a physician to authorize cannabis for their child. Some parents have had to go to non-legal sources and some even trying to get cannabis from the US (Ex: Colorado)."
WHERE TO LOOK FOR INFORMATION
"This is tough as many articles are not necessarily based on medical evidence and research. For example, I have been in the position to have to manage patients & family member expectations after they have read and believe that "cannabis can cure their cancer". The danger of this is when patients stop their treatment given by their doctor or specialist. In addition, some ask a friend or others on social media for cannabis recommendations. Everyone is different including the severity of the condition, the combination of conditions, previous experience and exposure to cannabis, etc. so just because a dosage or strain works for one person it does not mean it will work for someone else. I suggest patients go to a clinic that has the expertise and provides education to help patients with strain and dose selection as well as dosing titration. I oversee Solace Health Network and we do assist patients and can help answer questions. "
SABRINA'S FAVOURITE WOMEN IN WEED
"This is very difficult as there are so many great women in weed." Sabrina does make a special mention of Annamaria Enenajor and Reena Rampersad who are part of an organization called Cannabis Amnesty. "I love the work that cannabis amnesty is doing and hope that criminal records will be expunged for the Canadians that have records for non-violent cannabis offenses for possession. Most of the conversation has been around stock prices, pending legalization and this is an important issue that should coincide with the end of prohibition/legalization on October 17."
Follow Sabrina on Instagram and Twitter to keep up with her work. SHARESHARE ON FACEBOOK TWEETTWEET ON TWITTER PIN ITPIN ON PINTEREST
SCIENCE
6 Things You Need to Know About Recreational Cannabis
Sponsored by
Sabrina Ramkellawan
Vice President of Clinical Affairs, TerrAscend
James O'Hara
President & CEO, Canadians for Fair Access to Medical Marijuana
On Oct. 17th of this year, recreational cannabis will be legalized in Canada. Most of the nation is in favour of legalization, but there are still a lot of questions about how this affects the medical market.
Here are six differences between recreational and medical cannabis that Canadians should know before it becomes legal.
1. Medical treatments should reflect a patient's unique needs
"Cannabis is a highly personalized medicine," says James O'Hara, President, and CEO of Canadians for Fair Access to Medical Marijuana. "The effects can vary from person to person because each and every patient is different. They have different needs and different reactions."
2. Cannabis has potential side effects just like any other medication
"Health care professionals will know about contraindications with other medications patients are on, or other conditions they may have," says O'Hara. "Health care practitioners really need to analyze the individual needs of each patient — which is something you won't get outside of the medical environment."
3. Cannabis options can be overwhelming
That fact can be almost entirely mitigated by a sound education. "The majority of patients we're seeing now are new to cannabis," says O'Hara. "Without proper coaching and education, it's very common for them to take doses that are way too high and thus have an overly intense experience that results in them giving up on the treatment."
Professional cannabis educators are well-versed in the various options and can help empower those considering cannabis to choose the strains and dosages that make the most sense for them.
4. The recreational market may not have the resources to provide guidance
"The recreational market will likely not have the expertise to educate and coach patients on medical cannabis treatments specific to a patient's condition and needs," says Sabrina Ramkellawan, Vice President of Clinical Affairs at TerrAscend. It oversees Solace Health Network of health care providers and educators who deliver personalized care to help patients successfully integrate cannabis into their lifestyles.
"If you go through the medical system, there's guidance available in terms of strain selection and dosing. In addition, educators are knowledgeable about products and programs such as compassionate pricing, as many patients have financial restraints. Finding the optimal medical cannabis treatment is a process that takes time and generally includes follow-up visits."
5. The cost of recreational cannabis will never be reimbursed
Medical cannabis can be quite expensive, and according to Ramkellawan, the biggest thing for patients is paying out of pocket. "I believe that in time, more insurance companies will start to cover the cost of medical cannabis, especially as many patients decrease the usage of the other drugs that they're taking,"
For insurance companies that don't provide blanket coverage, cannabis can be pursued on a case-by-case basis. Solace Health Network is currently hiring reimbursement specialists to assist patients with securing coverage for medical cannabis from their insurance providers.
6. The goals of medical and recreational cannabis use are different
For the latter, getting high is the point of consumption. While medical users want that side effect minimized. "A lot of people think that cannabis therapy always means they're going to get high, but that's just not the case," says Ramkellawan. "We titrate people very slowly and find a good medium where they're functional and their symptoms are also controlled."
It is worth understanding that recreational and medical cannabis are two very different worlds. The imminent legalization of recreational cannabis has almost no bearing on the importance of talking to your health care provider about medical cannabis.
Is cannabis right for you?
Remember, no matter how much you know about cannabis, or how convenient it is to purchase and consume on your own, you should always seek out resources to help you find a medical cannabis solution that will fulfill your specific needs.
If cannabis can be used for your condition, you should treat it like medicine and seek out an appropriate educator. The health care team at Solace Health Network can help you learn how to access a variety of safe and convenient options for medicinal cannabis use.

D.F. McCourt
Cannabis is For Women, Too, But Support is Lacking
BY: CHRISTINE PERSAUD
September 25, 2018
We're on the heels of recreational cannabis becoming legal in Canada. And for those who support and/or use it, a particular issue is coming to light: why is the industry so male-focused?
At the HempFest Cannabis Expo that took place in mid-September in Toronto, Katie Pringle, owner of Canndora, a female-focused company that sells cannabis accessories, expressed her belief that cannabis culture simply doesn't cater to women. And that relates both to the products that can be used with cannabis, and the clinical research around it.
Clinical Research Around Cannabis Use and Women
Sabrina Ramkellawan, founder and CEO of (CIMA)
Sabrina Ramkellawan, founder and CEO of the Canadian Institute for Medical Advancement (CIMA), says there's a clear male bias in clinical research. Women, for example, absorb cannabis differently than men, because women have different body types, metabolisms, and muscle mass.
What's more, she adds, ironically women tend to have higher rates of some of the medical conditions that cannabis commonly treats, from severe migraines to anxiety, and sleep disorders. That makes women just as likely to be candidates for use, if not more so than men.
But there are also unique concerns for women. The Canadian Institutes of Health Research notes that cannabis can affect menstrual cycles, reproductive systems, and fertility. Ironically, many female users of medical marijuana likely use it to ease the symptoms of severely painful periods or even menopause.
"The biggest lack of information is inaccurate dosing, and all body metrics are at play there," says Lisa Harun, co-founder, and CMO of Toronto-based cannabis accessories company Vapium. "It's not even just a matter of gender, but a matter of age, weight, whatever other conditions you're suffering from."
Lisa Harun, co-founder & CMO of Vapium
Vapium is exploring a deeper relationship with nurses, specifically in Ontario, as a key touchpoint between a doctor and a patient, to help ensure things like accurate dosing on the medical end of the market.
It's clear that more work needs to be done on providing clinical research relating to women and the use of cannabis.
Cannabis Accessories for Women
Beyond the clinical research, women also feel neglected when it comes to products that appeal to the fairer sex.
A lot of companies have the 'make it pink' mentality, says Harun, as if simply turning something pink will make it appeal to women. "It's not like that anymore," she says, "and I don't think it has been like that for a long time."
This has sparked a new wave of female entrepreneurs launching cannabis stores and products targeted towards women. And it is creating a wealth of business opportunities as we prepare for legality in Canada. These companies are offering thoughtful solutions, says Harun, that work to address women's issues like PMS with bath soaps and body rubs.
Vapium makes products like vapourizers and pens to help people consume the plants. And there's a shift towards smaller and more dainty-designed items. "I won't call them dainty," Harun clarifies, "but more ergonomically correct. Women have smaller hands. We want things that we're able to be agile with. But also taking into consideration how a woman consumes, and making it convenient and discreet and to fit with her lifestyle as opposed to having to buy products that have cross-appeal or that have been designed for a man by a man."
Liken it to the also historically male-dominated technology industry. We've moved beyond the basic black and products emblazoned with sports team logos and other traditionally male imagery to headphones, smartphone cases, portable speakers, wearables, and more that are stylish and refreshed in design to appeal to more feminine sensibilities.
But when you think of cannabis accessories, you still likely picture gaudy designs with green cannabis leaves all over them, or big, bulky, and frankly, ugly devices. This mindset is not only archaic from a design perspective, but it contributes to the stigma behind usage for women.
Emma Baron is co-founder of Milkweed Toronto, an online cannabis accessories company. But prior to that, she used to work in a medical marijuana shop. And she has seen the stigma first-hand, telling the CBC in a recent interview that she'd frequently see elderly women coming into the shop and feeling embarrassed to purchase anything. Harun agrees, noting lots of pushback around mothers, or even women overall, engaging in cannabis use.
The latest female-focused cannabis accessories are discreet, more stylish, and, in some cases, focus specifically on the needs of women. These range from copper stash tins, to gold-painted ceramic pipes, pre-rolled and embossed blunts, and topical ointments. Companies like Van der Pop, owned by April Pride, add more sophistication with glass stash containers, a leaf grinder necklace, and jewel-encrusted vape pen. Pringle cutely calls her gear accessories for "elevated women." Online store Hemlock Rose calls its feminine cannabis accessories "smokeware," as if they're simply another set of items to stock in the kitchen pantry.
Erasing the Stigma, Increasing Research
It seems, then, that we need both more cannabis products that appeal to women, and to erase the stigma around women using cannabis, as well as more research to educate and inform users of the risk, benefits, and how cannabis can and might impact women differently from men. And given that legal cannabis is coming soon, there's a ticking clock.
On October 17, 2018, recreational use of cannabis will become legal in Canada for anyone over the age of 19, in private residences only. The only legal outlets for purchasing cannabis itself will be the government-run Ontario Cannabis online Store, though private retail sales will start in April 2019, at which time homeowners will also be allowed to grow up to four plants per household. A year from then, on October 17, 2019, the sale of edibles, and concentrates like CBD oil, will also become legal.
"We got involved in the industry," says Harun, "because we do believe that cannabis is medicine. So how do you make it safe, because it has been stigmatized for so long. But with good technology and conscious consumption, that's about to change."
Where's The Data?
Listen to the Podcast Here.
Why Many Doctors Still Slow to Recommend Cannabis
This is a loaded question and an area of frustration for many seeking access to legal cannabis. So even though Medical Cannabis has been available for purchase in Canada under the order of a physician since 2014, many are still reluctant to recommend it. Read the article Here.
Getting Better Without Getting High ( Unless you want to of Course) Read Sabrina's article Here. Despite its pending legalization, recreational and medical cannabis is still stigmatized throughout Canada. Education can help overcome these concerns. Read Sabrina's article Here.
Sabrina Ramkellawan VP, Clinical Affairs, Solace Health Network
Challenges to Clinical Trials Remain Following First FDA Cannabis-Based Drug Approval
Sabrina Ramkellawan featured in The Kit article about women leaders in the cannabis industry. Article below.
https://www.centerwatch.com/news-online/2017/06/02/cannabis-poised-disrupt-pharma-industry-many-say-yes/
https://biotechnologyfocus.ca/can-cannabis-be-potential-substitution-for-opioids/
Can cannabis be potential substitution for opioids?
Read Sabrina's article on Opioid Substitution Biotechnology Focus Here
Is cannabis poised to disrupt the pharma industry? Many say yes.
Read article on How Cannabis can disrupt the pharma Industry Here
The Future is Already Here!!
Synopsis: Sabrina Ramkellawan writes about the present day landscape of cannabis research in Canada.
Read the online Article here.
Canadian Institute For Medical Advancement – Working on Migraine Cannabis Research Study
Read the article here